Areas Popular around Mount Marina Villas Tours depart daily from the resort
Famous Beaches, Scuba Diving, whale watching, and Snorkeling Destinations
Unawatuna
– 6.3Km from Mount Marina Villas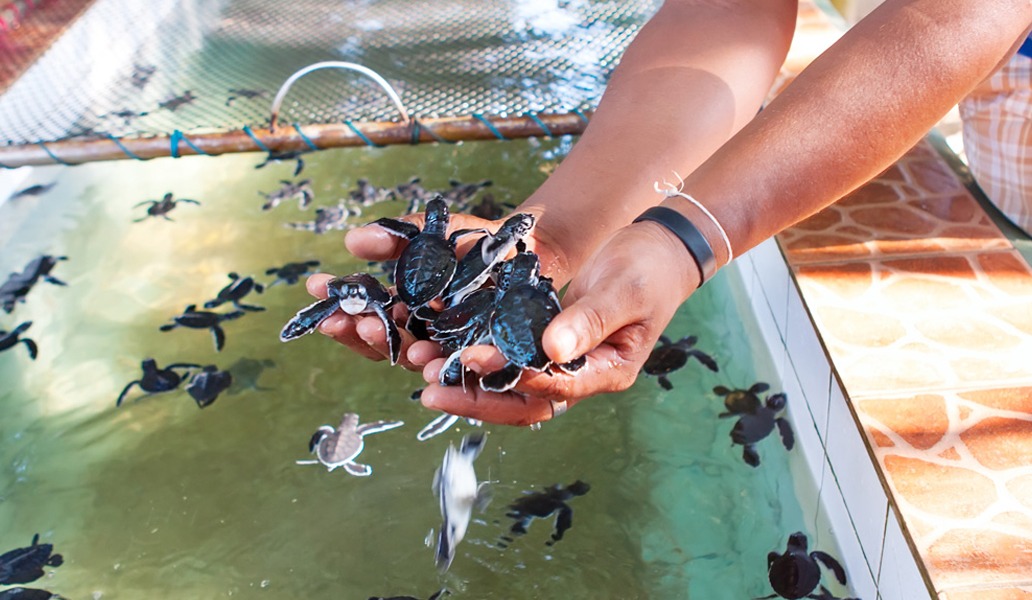 One of many turtle farms in Unawatuna
Tourists relaxing along the Unawatuna Beach.
Unawatuna is primarily a fishing hamlet nested above the sea level, best known for its palm-lined beaches, as well as named the world's best beach by The Discovery Channel in 2004. Unawatuna is a village rich in biodiversity, therefore became the eco-tourism center of the country. this village is also home to about sixty endemic species of birds, they can be sited around the mashy area and nearby Rumassala beach, another popular tourist destination for divers. Our Client's Service Manager would be very happy to plan your day trip to Unawatuna area.
Koggala
– 16.3Km from Mount Marina Villas
Koggala a previously unexplored hamlet found in close proximity to the Unawatuna beach has one of the longest beaches in the country, is also the birthplace of the famous Sri Lankan author Martin Wickramasinghe whose popular traditions, culturally significant work is now preserved in a dedicated museum in the village. The Kathaluwa Buddhist temple in Koggala recognized for its mural paintings and has the first printing press brought in by Dutch to Sri Lanka. Stilt fishing, a traditional fishing method carried out sitting on an erected stick over chest-deep waters off the coast of the Koggala beach area, is very popular with tourists. 
Still Fishing in Koggala.
Inside Martin Wickramasinghe Museum.
Hikkaduwa
– 17Km from Mount Marina Villas
A familiar Turtle in Hikkaduwa waters.
Surfing is popular amongst the tourists in Hikkaduwa.
Hikkaduwa is a very popular seaside coastal village, renowned for its powerful surf waves and hot sandy beaches, surrounded by palm trees, along the coastal line is a well kept coral sanctuary named Hikkaduwa Nationa Park, home to seventy varieties of multi-colored corals, sea turtles, and exotic fish found only around this area, this marine sactuary lies around the shallow waters of the beaches, just offshore a few meters away. Divers in that area regularly find shipwrecks colonized by colorful species of marine life, barracuda, and turtles.   No Hassle, just allow our Client's Service Manager to plan your trip to Hikkaduwa.
Weligama
– 27.1Km from Mount Marina Villas
WeligamaThe name Weligama translates into 'sandy-village' used to be an isolated fishing village but rose into fame with its sea waves primed for surfing, there are a lot of surfing lessons with surf teaching schools and camps in Weligama bay area, people also can seek advice from the villages in discovering beautiful scuba diving locations. Also nearby in the area is a pure solid rock sculpture of Kushtarajagal statue, this sculpture dates back to the 7th-century BC, there are yoga camps, in-class safe swimming lessons, and snorkelling lessons on the beach, and during the sunset, take a peek at moving blue whales or dolphins in their loop from Weligama beach area, that falls within their natural habitat.   Plan your day trip with the client's service manager of the Villa.
Weligama beach is full of beautiful scuba diving sites.
Group snorkeling exercises on Weligama beach.
MIRISSA
– 33.9Km from Mount Marina Villas
Mirissa beach is a popular destination for tourists.
Palm trees surrounded by turquoise waters in Mirissa.
MIRISSA is commonly known as 'the Southern beauty' for its exceptionally beautiful scenery, is also a place full of endemic flora and fauna, beaches in Mirissa are surrounded by outstanding eateries, endless nightlife, there is more than one thing you can do in this city, just look for a secluded beach area that is all yours, or just love doing bodyboarding, a popular beach sport around Mirissa beach, grab a snack go whale watching or surfing, how about a bit of tanning just sitting on the beach before ending the day with a sumptuous sunset dinner.    Ask your client's service manager in the Villa for a full list of things to do in Mirissa before planning your day trip with him.
Mount Marina Villas by Galle
Two luxury resorts that make the historical city of Galle so limitlessly fascinating right on your doorstep, offering an enjoyable base to those wishing to explore the city of Galle and surrounding attractions, located in close proximity to each other on a mountain cliffside overlooking the Southern Coastal City of Galle and the harbor. 
TISSAMAHARAMA
– 154Km from Mount Marina Villas
Tissamaharama Temple Stupa standing tall overlooking the paddy fields
Tissamaharama is a holy city in the southern province, and home to Tissamaharama Maha Viharaya (temple) an ancient Buddhist monastery of historic significance dating back to the 2nd century BC, the temple is easily recognized by its large stupa – a dome-shaped shrine, the history has it that the frontal bone and a tooth relic of Lord Buddha is believed to be enshrined in this stupa, the Tissa Lake that extends a bit towards the North, is solely a man-made lake dating back to the 3rd century BC, further southwest is Kirinda Vharamahadevi temple overlooking the Kirinda beach, which is a mountain peak shrine built over the rocky formation, within the temple is a large standing Buddha.   Make your travel arrangements to Tissamaharama with your client's service manager in your Villa.
KATARAGAMA
– 171Km from Mount Marina Villas
Entrance to the Kataragama temple
KATARAGAMA is a popular inter-religious pilgrimage town in the Uva province, venerated by many faiths namely, Buddhists, Hindus, Muslims, Christians, the first nation people, and Hindu follower from South India, Katharagama's famous temple complex is popularly known as the 'Katharagam Temple' is dedicated to Katharagam Diety, the guardian deity of Buddhism in Buddhist history, and God Murugan, a war god in Hindu culture. The temple consists of a large stupa within called the Kiri Vehera, that is run by Buddhists, and the shrine that is dedicated to God Siva is governed by Hindus, and the mosque managed by Muslims.  Make your travel arrangements to Kataragam with your client's service manager in your Villa.
Rain forests, national parks and Safari Destinations
SINGHARAJA RAIN FOREST
– 124Km from Mount Marina Villas
Sinharaja Forest Reserve The name Sinharaja translates into 'the kingdom of lions', is a protected national park, is also the last surviving section of primary tropical rain forests in the country, designated by UNESCO as a natural world heritage site is internationally recognized for its biodiversity forest reserve, that is home to a variety of endemic flora and fauna, comprising species of mammals, butterflies, birds, reptiles, fish, and amphibians, are all found only within the forest area.    Check with your client's service manager in the Villa about special trekking gear before visiting the Rainforest.
A colorful flower that only grows within the Singaraja rainforest.
Slender Loris, is a tiny nocturnal primate native to the rainforest.
BUNDALA National Park
– 140Km from Mount Marina Villas
Eurasian spoonbill in Bundala National park.
Pheasant-tailed Jacana in Bundala National park.
Bundala National Park is the more tranquil national park found in the country. is home to many varieties of unique species of birds, therefore, a popular destination amongst bird lovers, located in the southern province covering an area of 13 square miles, this park plays an important role of preserving the exposed area of the coastal wetlands, renowned for its overflowing aquatic birdlife, this park also shelters a significant population of elephants, leopards crocodiles, turtles, and rare types of fauna alike. The nature in the park mostly made of acacia scrubs, biodiverse plants, a picturesque scene straight from the jungle book with its fascinating variety of birds and mammals.   Let your client's service manager know, before you visit Bundala National Park.
YALA National Wildlife Park
– 160Km from Mount Marina Villas
YALA National Wildlife Park One of the first national parks in the country cover a huge area of forests, lagoons, grasslands broken down into five blocks, embracing two provinces, home to rare types of Birds, Mammals, Reptiles, Amphibian, Fish, and invertebrates within a multi-faceted ecosystem, the park islocated in the southeast part of the country. is built over the remnants of a rich hydraulic based agricultural civilization dating back to the 5th century BC, still visible within the park is partially sunk network of tanks, they are all historic remains of that lost civilization, Situlpathuwa rock temple, and Akasa Chaitiya, the first shrine ever built, dates back to the 2nd century BC, and Magul Viharaya built in 87 BC are all located within this national park.  Check with your client's service manager in the Villa about the Park.
Elephants in Yala national park.
A crocodile basking in the sun, Yala national park.
Our concierge also has a few ideas ...
Add colonial treasures to your Mount Marina Experience
The city of Galle is a UNESCO designated heritage city, discover its most intricate historic past within a short walk from your resort.
Look out for your own beach
Head outside the city to the west coast, home to gorgeous golden beaches, turquoise waters, and pristine coral reefs that boast some of the best snorkeling, scuba diving, and surfing adventures in the world.
Talk to your villa service manager, about getting a customized tour
Photo excursion with maritime celebrities
Every year from December to April, the most sought after marine visitors, Whales, and Dolphins folks to the warm waters off the southern coastline in numbers, choose the whale watching experience for an awe-inspiring glimpse into their life.
Tour arrangments at the reception desk, depart daily from Galle and Mirissa harbors.